2018 IPF Championship Men's Open 74 kg Recap
2018 IPF Championship last week in Calgary, Alberta (TSG's hometown) was an experience none of us will ever forget. Jason Tremblay "One of the proudest moments of World's for me was spending time with these men after the competition, and reminiscing about the special journeys we've shared through paowerlifting as teammates and colleagues. " TSG athletes managed to secure the following placings at the 74 kg Men's World Championship.
1st Taylor Atwood, USA (TSG athlete / coach)
2nd Clinton Lee, SIN (Previous TSG athlete who will always be considered one of the TSG family)
6th Chris Wong, GBR (TSG athlete)
11th Urban Mur, SLO (Honourary TSG athlete, SLO)
Taylor held the world squat record (for a minute) and broke the world record total
In his third 74 kg Men's Open World Championship, Taylor Atwood finally took home the gold! Taylor went 7/9 making lifts of:
?Squat: 275.5 kg
?Bench Press: 190 kg
?Deadlift: 292.5 kg
?Total: 758 kg/546 Wilks
Taylor set the World Record in Total and briefly held the World Record in Squat before it was chipped by Yoshihiro Higa of Japan. Taylor is coached by Jason Tremblay and Ben Esgro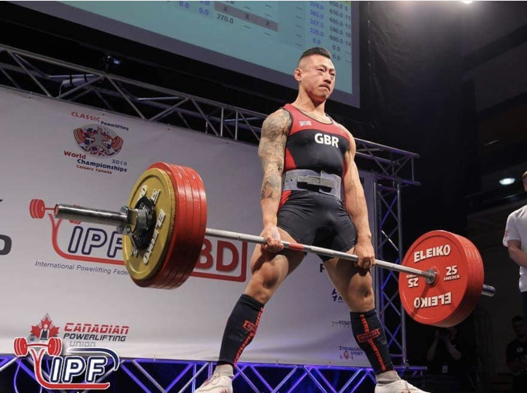 Under the excellent handling of the Great Britain coaching staff, for Worlds and guidance from Chad Dolan and Jason Tremblay throughout his preparations, Chris Wong went 9/9 for PR's in the Squat, Bench Press, and Total.
Chris ended the day with a 667.5 kg Total (17.5 kg PR) and 486 Wilks. This helped him secure 6th in placings and 4th in the current Great Britain Men's powerlifting rankings across all weight classes.
Huge thank you to John Downing for volunteering to the sport as he always does and sharing being there with Taylor, Chris and Clinton.
Related stories:
Taylor Atwood & Jason Tremblay | A Winning combination | De Novo Podcast
Taylor Atwood's Success Story
Chris Wong – TSG Athlete
Interested in becoming a TSG athlete? Check our Coaching Services