Powerlifting Perspectives From A Zimbabwean Strength Gal Audrey Svongwa
I was introduced to lifting at 32 years old, and since this time powerlifting has become one of the best things to ever happen in my life. I have grown into the sport and even teach others by hosting powerlifting workshops , train regularly under The Strength Guys, and I most recently became the first female powerlifter to represent Team Zimbabwe under the Zimbabwe Powerlifting Federation. Strength Gal Audrey tells her story of how powerlifting is changing her life.
Female Powerlifting in Zimbabwe
Why do you do what you do? My family, friends and many others certainly don't understand, and I am often judged very harshly as a female powerlifter in Zimbabwe.
Being a female that lift weights in Zimbabwe is not the norm. In fact it is unheard of! Many people don't even know what it is I do at the gym and don't even try to understand. They have their own idea how I should behave as a lady (especially as a single mother) and I have received many hurtful comments over the past couple years.
It takes courage and confidence, and I lead the way in hopes to break stereotypes and create change for others in my country. I do what I do in the sport because I can, and I don't let what others think be a barrier for me. I want other ladies to experience the benefits of lifting as I have and I believe it starts with me being a positive role model.
TSG – Lift4Life Partnership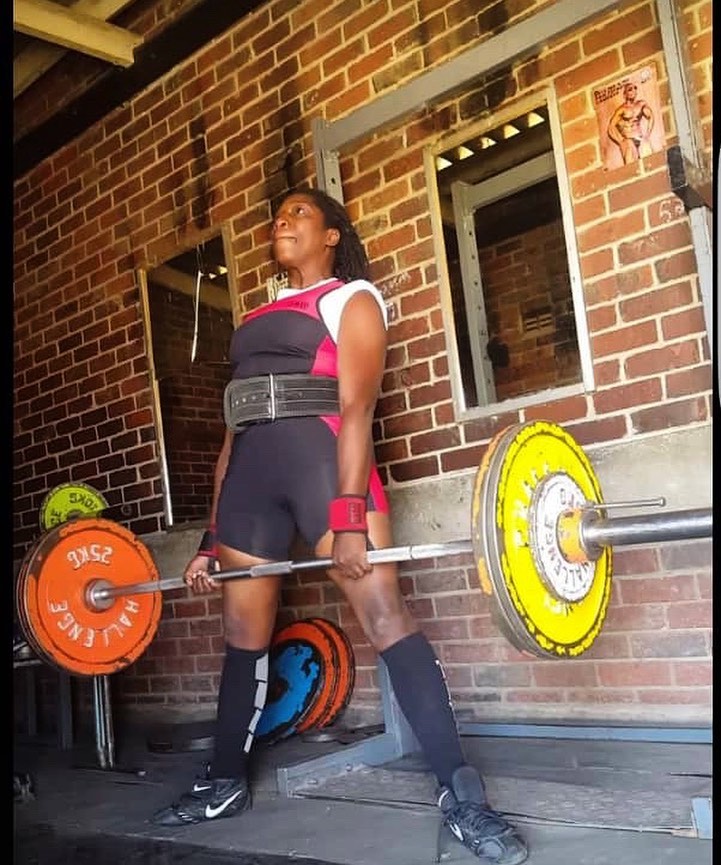 Zimbabwea Strength Gal, Audrey training in her small community gym in Glen Norah, Harare. The gym was donated by Lift4Life and is supported through TSG's Coaching for a Cause.
Never in a million years would I have thought I would be a powerlifter, but it was a chance encounter through the charity Lift4Life in my community I will always cherish. Powerlifting has now provided me many new opportunities, and most of all I cherish the new friendships that have developed and are still developing within Zimbabwe as well as around the world. I am incredibly grateful to be a part of The Strength Guys community, and be under the coaching and mentorship of Jason.

Living in Zimbabwe takes a toll on the body and soul. Economically the country isn't doing well and this can be seen in how people are living as well as in people's attitudes. Most people have just given up. Even in my own life, there were times when I just quit because things were hard and not happening the way they should. But when I started powerlifting everything changed, and I gained a new perspective on how things could be. I gained hope, resilience, confidence, and I learned that progress doesn't happen overnight. Just as in powerlifting, in life we have to trust the process and put in the work. But improvements, progress, and change will come. 
A support system for me is the best thing about the sport, and what I believe is most important and very encouraging for my country. I have been a sponsored athlete under various coaches including currently with Jason Tremblay of TSG. I always reflect and realise how blessed I am as it doesn't happen to most people to be coached by some of the best people in the world. I have no words to describe what these coaches have done for me and continue to do. From my own experience I know how difficult it can be to help someone with powerlifting technique in person. I can only imagine how much work it takes to coach me remotely from my gym in Harare, Zimbabwe, especially because I have limited equipment, limited internet, and resources at my disposal due to my context.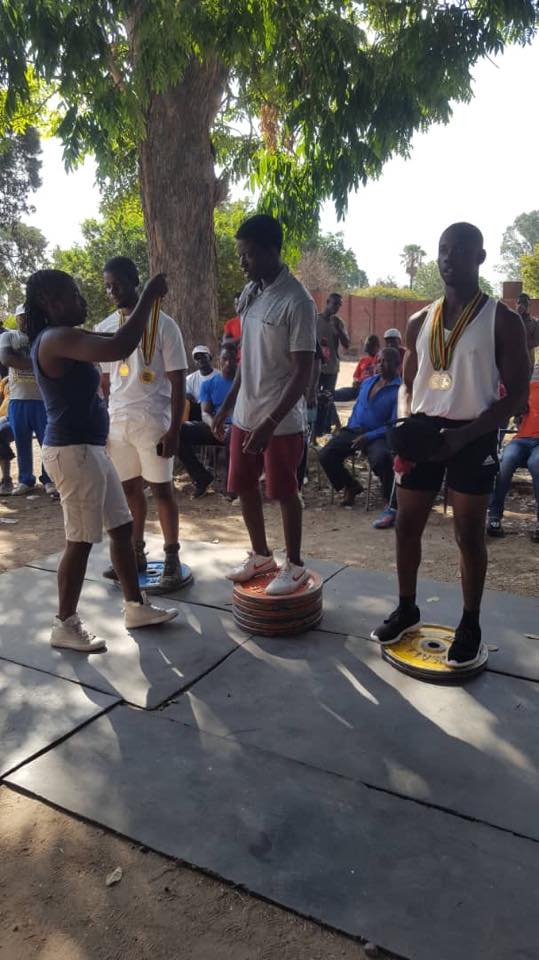 Audrey directing and organizing a local meet in the community of High Field, Harare. She coaches and mentors a number of youth powerlifters across the country. 
Being an athlete for me sometimes I have doubts in my abilities, and I have a fear that I may disappoint my coach Jason when I fail to complete a set with the required weights, or when I forget or fail to make the necessary changes that were suggested. I always think that he might think I am not making enough of an effort or taking everything seriously, but all the time he gets to review my videos there are words of encouragement and motivation as feedback. This belief in me and hope makes be believe in myself, and makes any doubt or fear go away. It always makes me better, both in and out of the gym always striving to do better. The patience coaches have shown me humbles me and has a helped me to be more patient with others and the lifters I mentor locally at my gym.

No thank you will ever be able to describe the impact and gratitude I have for The Strength Guys coaching of me, as well as their continuous support to Lift4Life through Coaching for a Cause that has enabled many youth lifters to go to school, as well as spread powerlifting training through local gym donation and lifter development.


Strength Gal Benefits
Being an athlete under The Strength Guys has helped develop not only me, but many other lifters in Zimbabwe. The programming and coaching I have received, has helped me guide others and I use the knowledge and love of lifting gained in my own country hosting powerlifting workshops across the country. These workshops have been life changing to the lifters who attend and to myself. Every day I learn something from them and they learn something from me helping myself in the process. Often times local lifters thank me, but I always tell them not to thank me and that it is in fact them putting in the work. Many of these lifters now mentor other lifters as the sport grows and the community continues to develop.

Most recently, under the coaching of The Strength Guys, I have had the opportunity to compete at the 2019 African Arnolds in Johannesburg. Within this opportunity I also took 2 youth lifters I coach with me to compete which was life changing and broke many barriers within my country. This would not have been possible without the help of the global powerlifting community as without their support as we couldn't have managed it on our own.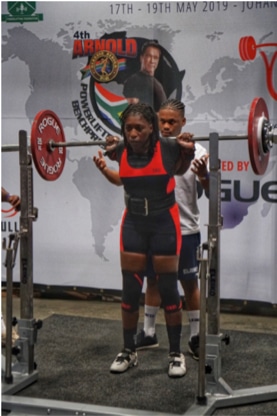 Audrey setting up for the squat representing Team Zimbabwe in the 72kg open class at the African Arnolds.
Image captured by Christian Parkinston @imagejunkies
At the African Arnolds meet, I also got to coach and handle some of the powerlifters from other countries who needed assistance. It really made me appreciate the hard work and effort that goes into coaching on meet days. Seeing other lifters from Zimbabwe on an international stage, including a female youth, was one of the best feeling ever. I was also very nervous for them competing for the first time, but being a part of their powerlifting journey is indescribable. I wouldn't trade these powerlifting moments and memories for anything in the world. Seeing the smiles of the two Zimbabwe youth powerlifters and knowing I played a part in it is a favourite memory of mine and always reminds me why I do all this. Beyond all the hardships that come with being a female powerlifter in Zimbabwe, there is no stopping me any time soon.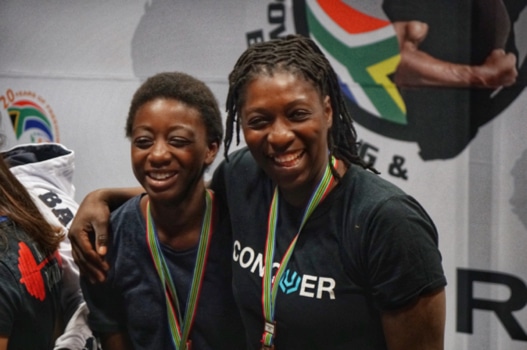 Audrey sharing a smile at the African Arnolds with 16 year old Juliet Molife, a female youth from Zimbabwe Audrey coaches. It was Juliet's first competition and the experience broke many barriers for young women in the country.


Image captured by Christian Parkinston @imagejunkies
What's Next for Audrey?
This powerlifting journey hasn't been easy thus far – from establishing the Zimbabwe Powerlifting Federation and setting formal structures in place, the poverty and economic crisis that exists in my country and community, to barriers to female lifting – but one day and one lift and one rep at a time I have faith the sport will continue to grow and change lives within Zimbabwe. 
Interested in becoming a Strength Gal?
Contact us for more information