What an experience at 2018 IPF World Championship
Our entire TSG Team is so thankful for the support from around the world we received for IPF Worlds. Our athletes' & teams' success would not have been possible without people coming together near and far to contribute their strengths. Everyone was on top of the world last week!
Sending out so many #GratefulGains! And especially to you our followers who have been following along. We would like to recognize a few very special people who had a special role along the way.
A big thank you to Ryan & Ericka and everyone at XLR8 Fitness in Calgary for hosting and welcoming so many of our worlds competitors, and for helping tour guests and making Canada feel like home .
To "TSG Mom" Debbi for all her behind the scenes organizing and driving and support. She continues to unite the TSG family! Her family in Calgary was also a huge help opening up their home and hosting athletes.
A big thanks to TSG coach John for coming all the way from Ohio to help and volunteer on the platform, and Kedric, Ben, and Alfred for travelling to coach and support athletes. Nicola even trekked all the way from Africa to be a part of Worlds!
And who can forget TSG President Jason – who we don't think slept a wink the entire Worlds! Jason and Debbi had a vision to make this IPF Worlds in his home city an unforgettable memory and experience. And damn did they deliver! From touring and hosting athletes from various nations, volunteering, coaching, organizing, and tending to everyones needs. This Worlds would not have been the same without them! Jason continues to inspire, lead, and make TSG a force to be reckoned with! With his big dreaming there is nothing TSG can't achieve.
TSG 83 kg athlete, Jure Rus was not able to compete due to an injury, but made the trip to Calgary to support his fellow Slovenian teammates as well as meet everyone from The Strength Guys. It was great to meet everyone and share special memories with Team Slovenia.
Clinton Lee, 74 kg athlete from Singapore , has always been part of our TSG family. Clinton and Jason met back in 2015 when Jason was backpacking around the world. We welcomed all athletes and supporters from Singapore and had a great week.
All TSG coaches as well as Ryan Smith (XLR8 Fitness) helped with Team Malaysia and Team Singapore throughout the week. We even befriended Team Trinidad & Tobago.
We are still all smiles from our Top Of The World experience!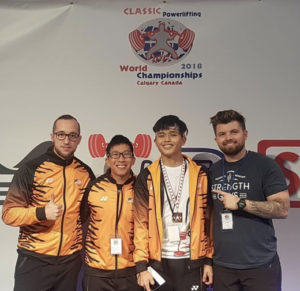 Team Slovenia and XLR8 Fitness On Top Of The World at Lake Louise